Review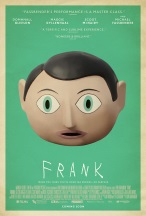 95min
Director:   Lenny Abrahamson
Cast:        Michael Fassbender, Domhnall Gleeson, Maggie Gyllenhaal
Writers:    Jon Ronson & Peter Straughan
-Synopsis-
A young man's mundane life in small-town Ireland is transformed when he joins a bizarre underground experimental pop band fronted by an enigmatic singer who never removes his oversized cartoon costume head, as success beckons, band dynamics and personality clashes come to a head in this unique comedy/drama from director Lenny Abrahamson.
Eccentric is probably the most appropriate adjective to describe 'Frank' and everything that surrounds this film. The story and titular character are loosely based on "Frank Sidebottom", the alter ego of 80/90's British alternative comedian/musician Chris Sievey who wore suits and a large Max Fleischer cartoon-styled costume head whilst performing music, comedy and hosting a talk show, all in his surrealist pastiche style.
This "Frank", played by the irresistible and ever convincing Michael Fassbender, is a talented and enigmatic young man who suffers from mental illness and uses the head as a shield from society, around him is gathered his cult-like and equally eccentric band with their own psychological issues and together they wander around Britain & Ireland creating their unique brand of "avant-garde" underground psychedelic music.
The story is told from the perspective of Domhnall Gleeson as "Jon", the everyman who joins the band and goes from outsider to the driving force for popularity as he uses his promotional skills to reach a larger audience, and in the process disrupts the group dynamics which surfaces one of the main themes in 'Frank', the notion of artistic integrity vs. success. Even though the film is an ode to the outsider and artistic freedom, it does a great job at exposing the often pompous and pretentious nature of "experimental" artists.
Indeed 'Frank' is a curious mix of themes and elements which include, belonging, isolation, mental illness and the question of trauma & suffering as an essential element for inspiration and "real" art. Frank himself is not only inspired by "Frank Sidebottom" but also some of the pioneers of "art-rock" and alternative music, such as Captain Beefheart, Daniel Johnston and Ian Dury.
Although 'Frank' is very much a quirky comedy which sometimes descends into slapstick but is always surreal, the tone and pace changes drastically towards the end and becomes a drama that deals with mental illness. Although it does a commendable job of not treating the psychologically troubled as victims, there is no space to faithfully depict the intricacies of mental illness here and the conclusion of the film is rather sentimental and slightly out of place.
The Bottom Line…
Although quirky to a fault and despite only skimming the surface of some profound subject matter, 'Frank' is a wonderfully weird and cinematically unique blend of elements that makes for an artistry comedy/drama that you won't soon forget.

_________________________________________________________________________________
Similar films you may like (Home Video)
The Guard (2011)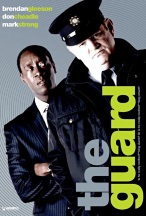 An unorthodox Irish cop teams up with a fastidious FBI agent to investigate a series of murders and break an unlikely international drug-smuggling ring operating on the coast of rural Ireland in this outrageous and often surreal dark comedy/thriller.
Directed by John Michael McDonagh and starring Brendan Gleeson, Don Cheadle and Liam Cunningham among others.
Comments
comments
The comments are closed.
Submitted in: Home Cinema
|