Review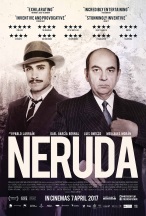 107min
Genre:       Fact-based, Crime, Drama
Director:    Pablo Larraín
Cast:         Gael García Bernal, Luis Gnecco, Mercedes Morán…and more
Writer:      Guillermo Calderón
-Synopsis-
Director Pablo Larraín's unique fictional detective-thriller treatment of the story of Nobel Prize-winning Chilean poet and communist party politician Pablo Neruda, who was persecuted by the government when a right-leaning administration took power in the late 1940s.
Throughout his brief but impressive career thus far, Chilean writer/director Pablo Larraín has crafted nuanced dramas which are set-in or reflect his country's socio-political turmoil during its Cold War days–with films like 2008's 'Tony Manero' and 2012's 'No'—and more recently with his latest film, he has lifted the veil on public figures and the makings of popular perception with former American first lady drama 'Jackie'. Now UK audiences finally get to see Larraín put these two talents together in a highly unconventional biographical drama—equal parts a lyrical fictional take on the political hunt for a Latin American icon, and a hypothetical portrait of a unique character . . . and the country which made him.
Set in 1948 Chile during the presidency of radical turned right-winger Gabriel González Videla, 'Neruda' stars Luis Gnecco stars as the eponymous former diplomat, world-renowned poet and communist party senator. On the run from the authorities with his wife Delia (Mercedes Morán) and pushed underground after communism is outlawed, Neruda plays a poetic cat-and-mouse game with the implacable police detective (and the film's narrator) 'Óscar Peluchonneau' (Gael García Bernal) who hunts him across the land—as his legend and ego grow on the path to exile.
Written by playwright and screenwriter Guillermo Calderón, 'Neruda' is something of a unique and paradoxical curiosity, but a fascinating one. Shaped by the poet's more political and romantic styles, the story is highly self-referential and even hypothetically told as if Neruda had written it himself—combining real people and events with fictional ones and taking the form of a 1940s noir detective drama, with Neruda in the romanticised role of the poet-fugitive chased by the tragic but determined detective, all in an appropriately lyrical and reflective piece which is reverential of his talents as an artist.
Yet the film is simultaneously an unflattering portrait of his character, and the person behind the popular perception of the people's political outlaw. Neruda is physically the opposite of what you might expect of a legendary romantic and renowned lover, and is presented as a flawed, narcissistic and out of touch figure at the top of the artistic and intellectual left-leaning community of elites. Larraín doesn't shy away from lampooning the naivety of the communist movements of Latin America and beyond during the cold war, destined to be undone by the cult of personality within and the realities of the world. But he's just as critical of the right-leaning and often semi-fascist governments of the day, who would bring so much suffering and injustice to an entire region over many decades—with the support and funding of the US and their anti-communist global agenda
Every inch the stylish period drama too, 'Neruda' has the impeccable costumes and production designs to prove it. Taking advantage of impressive and opulent state architecture, plus the keen eye of cinematographer (and regular Larraín collaborator) Sergio Armstrong to vividly recreate mid-20th century Chile, before opening up the landscape and ending with stunning and expansive Western-style vistas. While composer Federico Jusid adds even more texture to the film with a dramatic classical score which certainly fits the bill of a classic film noir detective fiction.
Hugely popular Chilean comedic actor Luis Gnecco delivers a layered and impressive dramatic (and slightly surrealist) performance as the film's titular character, portraying the complex and flawed psyche of a man who became a Latin American political icon and an entrancing global literary legend, while Mercedes Morán is as impressive as his equally multi-faceted wife Delia.
Meanwhile Larraín once again gets the best out of Gael García Bernal as 'Detective Peluchonneau'—the only true fictional main character, although named after a real police director—as he delivers a restrained but illuminating performance as the antagonist, observer and narrator of the film, but also the character which truly represents the Chilean proletariat (us mere mortals) . . . as well as the audience, watching this darkly comical and often surrealist biographical drama unfold.
'Neruda' is probably not a biographical drama for all seasons though, perhaps proving too unconventional and free-form for some audiences and downright confusing for others, as it deliberately blurs the lines of history. But for us—jaded as we are by the conventional cradle-to-grave Hollywood biopic—Larraín's effort is a rare example of the cinematic fiction improving the historical fact, or at least provoking thought, in an inventive and captivating package of history lesson meets character fantasy, about the sometimes abstract and often surreal poetry of life . . . and of the mind.
The Bottom Line . . .
Part highly unconventional biographical drama and part self-referential, surrealist neo-noir detective story, 'Neruda' is a fascinating and often darkly comic concoction which feels like a poem written by Neruda himself. Simultaneously educational and fantastical, and a complex character portrait of a political icon and literary legend—Larraín cements his reputation as a director to follow with an inventive critique of the 20th century political fight for his country, and an ode to the eponymous poet's artistry . . . if not his character.

'Neruda' is out on Blu-ray, DVD, and iTunes on the 10th July
---
Similar films you may like (Home Video)
Natalie Portman stars as former American first lady Jacqueline Kennedy in the aftermath of the JFK assassination, struggling to keep her family together while protecting the legacy of her late husband in this biographical drama and cinematic character portrait from acclaimed Chilean director Pablo Larraín.
Directed by Pablo Larraín and starring Natalie Portman, Peter Sarsgaard and Billy Crudup among others.
Comments
comments
The comments are closed.
Submitted in: Home Cinema
|