Review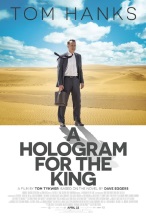 98min
Director:    Tom Tykwer
Cast:         Tom Hanks, Alexander Black, Sarita Choudhury…and more
Writers:     Tom Tykwer and Dave Eggers
-Synopsis-
A divorced American businessman in financial straits travels to Saudi Arabia in the hopes of selling his modern telecoms system to the King, but the cultural clash soon turns his business trip into an amusingly reflective voyage of self-discovery in this light adaptation of the Dave Eggers novel.
The ever dependable Tom Hanks stars as "Alan"; a middle-aged divorced father who struggles with keeping his focus on a faltering career while losing direction in life and trying to keep a relationship with a young adult daughter intact. In this fateful trip "Alan" transitions into a sort of modern corporate "Lawrence of Arabia"; meeting new disparate people, discovering a new land… and in the process himself.
German writer/director/composer Tom Tykwer's (Run Lola Run, Cloud Atlas) adaptation filters out much of the immediacy, desperation and darker tonal quality of the novel to present what is essentially a classic and hopeful fish-out-of-water comedy and clash-of-cultures drama, albeit one set in a unique and very specific context.
The film revolves largely around an unfamiliar Saudi concept of punctuality and professional courtesy which turns a business trip into an indefinite stay, waiting for meetings that never happen and Kings who never show up. Giving "Alan" plenty of time meet colourful new friends and get into trouble, but also reflect and overcome cultural obstacles which lead to an unlikely romance, which forms the sincere if a little contrived heart of the film.
With panoramic shots of stunning but unforgiving landscapes and the mix of pathos & humour, 'A Hologram for the King' is a colourful and charming if unspectacular cultural dramedy; but it's the efforts of its leading man which give the film any real life.
Hanks solidifies his reputation of master of the everyman by bringing a captivating humanity to every frame, while Alexander Black's performance as the Saudi helper/confidant "Yousef" is utterly convincing and often scene-stealing.
'A Hologram for the King's' setting makes the story unique in shining a more flattering and humorous light on a part of the world which has developed a distinct PR issue in the West, something that might be an issue for critics of Saudia Arabia's human rights record and oppressive society.
Tykwer also captures some of the book's narrative about the effects of globalisation on emerging nations and pseudo-capitalist  beacons of steel and glass in the desert, as well as the countries which spawned and traditionally profited from capitalism.
But with a comedic narrative which slows to a dull crawl in the third act and then takes an abrupt and unconvincing turn towards a convenient romance, there's not enough depth or quality in the entire package to make this anything more than a 90 minute-killing, breezy and entertaining Tom Hanks charm-fest.
The Bottom Line…
Tom Tykwer effectively uses every ounce of talent and likeability from his lead to give an otherwise pedestrian comedy/drama enough charm and humanity to make it worth the price of admission, 'A Hologram for the King'  is enjoyable "stranger in a strange land" entertainment with an alluring Tom Hanks twist.





_________________________________________________________________________________
Similar films you may like (Home Video)
Joe Versus the Volcano (1990)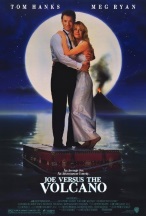 A bland, average and terminally ill hypochondriac accepts his fate and sets off on an adventure on a tropical island to throw himself into a volcano, only to learn how to truly love and live in an unlikely voyage of self-discovery in this forgotten 1st Tom Hanks/Meg Ryan comedy romance.
Directed by John Patrick Shanley and starring Tom Hanks, Meg Ryan and Lloyd Bridges among others.
Comments
comments
The comments are closed.
Submitted in: Cinema Releases
|