Review
117min
Genre:      Comedy
Director:   Richard Linklater
Cast:        Blake Jenner, Glen Powell, Zoey Deutch…and more
Writer:     Richard Linklater
-Synopsis-
Writer/director Richard Linklater gives the early 1980s American college experience his 'Dazed and Confused' treatment in this free-spirited coming-of-age college comedy, following the fortunes of baseball-playing frat boys as they navigate the perilous waters of college freedom and "higher education".
After cutting his cinematic teeth and perfectly capturing the exuberance of 1976 American youth with 1993's instant coming-of-age comedy classic 'Dazed and Confused'; Linklater focuses that same cultural eye on a story set in 1980. A curious decision probably made to reflect the semi-autobiographical nature of the film, but this gives it a distinct late 70s style which might confuse audiences expecting a typical 80s college comedy.
When you add the loose narrative which heavily focuses on personalities, familiar social dynamics, clear college equivalents of main characters, heavy reliance on music and the general tone of the film; you get the sense that rather than a "spiritual successor" to 'Dazed and Confused', 'Everybody Wants Some!!' is more a straight up sequel… albeit with different characters.
Like its "spiritual" predecessor, 'Everybody Wants Some!!' features a young cast of relative unknowns led by Blake Jenner as "Jay"; a wide-eyed young freshman who arrives at a Texas University just before the start of term, for a weekend of connecting with his new raucous Baseball teammate peers, finding his identity and as many girls as possible… and of course fun, and lots of it.
With a meticulously recreated period style and an irresistible toe tapping soundtrack of late 70s rock, pop and disco tunes, which typically drives the movie along, Linklater has no doubt created a time-capsule piece of nostalgia entertainment from the memory vault of his own experiences.
'Everybody Wants Some!!' is pretty much a boys only club apart from Zoey Deutch's role as "Jake's" sincere college love interest. But despite the distinct male perspective of horny young men out to play, the characters are more layered and less misogynistic than first impressions might suggest, with some even providing a running social commentary as part of the narrative.
As you might expect from Linklater this film has slightly more substance than your typical modern irreverent youth shock-value comedy, or the one-note lewd comedies of the 1980s like 'Porky's'… but not a hell of a lot more and don't expect much of a story.
The Bottom Line…
Although it offers nothing particularly fresh to the nuanced American youth culture comedy table that Linklater himself so memorably set with 'Dazed and Confused', there's more than enough charm and humour here to make 'Everybody Wants Some!!' 2 hours of unadulterated adult-free fun.





_________________________________________________________________________________
Similar films you may like (Home Video)
Dazed and Confused (1993)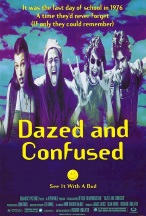 "School's out for summer" as a disparate group of high-school students come together on the last day of class to live it up in 1976 small-town USA in Richard Linklater's raucous coming-of-age modern comedy classic.
Directed by Richard Linklater and starring Jason London, Wiley Wiggins and Matthew McConaughey among others.
Comments
comments
The comments are closed.
Submitted in: Cinema Releases
|