Review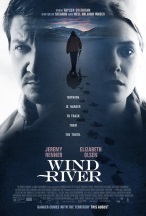 107min
Director:    Taylor Sheridan
Cast:         Jeremy Renner, Elizabeth Olsen, Graham Greene…and more
Writer:      Taylor Sheridan
-Synopsis-
A young FBI agent joins forces with a veteran local wildlife agent in a frozen and remote Wyoming Native American reservation to solve the mystery of a local girl's murder, a case which will dredge up painful past experiences and create all-new ones in actor-turned-writer Taylor Sheridan's directorial debut.
Having made a remarkable transition from TV actor to movie screenwriter, penning Oscar calibre scripts for the likes of 'Hell or High Water' and 'Sicario', Sheridan turns to the unforgiving wilderness and the native American experience in the modern USA, becoming a fully-fledged filmmaker with this poignant murder-mystery and human drama mediation on loss, grief and cold justice.
Jeremy Renner star as Wyoming wildlife officer and expert local tracker 'Lambert', whose tragic recent past is re-visited when he discovers the body of a teenage girl in the middle of the snow-covered wilderness. Enter young FBI agent 'Banner' (Elizabeth Olsen), a city slicker out of her element but with the authority and the will to solve the case, as she teams up with Lambert to unravel a sombre mystery which consumes the small local community and everyone involved.
By setting the story and the tragedy in a Native American reservation, thereby showing the Native American experience in the modern US and not shying away from the social issues which exist in the paradigm of a 'state within a state', Sheridan creates a narrative with a socially conscious core which depicts first nation communities differently than many have become used to in American cinema—and the female-focus of the story also makes it progressive without preaching, framing the strength of women to endure as a central theme.
Yet at its core 'Wind River' is a restrained and moody version of a classic murder-mystery and detective drama, employing  a slow burn approach but with a satisfying payoff, often clinical and even forensic in its approach but never cold (pardon the pun) or lacking in heart—in fact quite the opposite. Indeed this is just as much a family drama about loss and grief as it is anything else—with an ethos of taking the pain while risking being consumed by it, rather than blocking it out and losing a connection to the one you grieve for—but also featuring elements of a classic frontier survival drama and a Western, complete with familiar themes and character archetypes.
Sheridan makes sure that the visual finesse applied to his previous screenwriting efforts is maintained for his directorial debut, with young British cinematographer Benjamin T. Richardson (Beasts of the Southern Wild, The Fault in Our Stars) vividly shooting the beautiful but unforgiving landscapes of rural Utah to double for Wyoming, capturing the sheer isolation and elemental power of the setting, which plays a central role in the story. The sounds also live up to and compliment the quality of the sights, not only in terms of sound design but also through the melancholy and evocative score from Nick Cave and Warren Ellis (Lawless, Hell or High Water).
The performances are subtle and accomplished all around, with barely a hint of melodrama but plenty of pain and reflection. The two leads are solid individually and as a partnership, but with Elizabeth Olsen's character remaining something of an enigma throughout, while Renner gets the chance to layer a more emotionally exposed role—giving us a side to his acting we haven't really seen before, while retaining a more familiar stoicism and intensity.
'Wind River' has already been dubbed the third story in Sheridan's 'modern American frontier crime trilogy', accompanying his first two screenplays for 'Sicario' and 'Hell or High Water'. But his directorial debut doesn't have the tension or the visceral gut-punch of those films, with Sheridan skewing the narrative balance towards a poignant character drama rather than a more socially timely crime thriller—which when combined with some slightly prescriptive dialogue at times, makes this a less engrossing or memorable cinematic experience.
Yet what it lacks in terms of tight dialogue, narrative finesse and tension within atmosphere, 'Wind River' mostly makes up for in heart and humanity, striking an effective balance between criminal intrigue and a human story while basing the story of real events and reflecting the legal quagmire of unsolved murders in Indian reservations—but most importantly erasing the dividing line between cultures by crafting a sombre story of family loss, and painfully highlighting that when it comes to our children . . . we all hurt the same.
The Bottom Line…
Atmospheric murder-mystery meets poignant family drama, filtered through the lens of a modern Western and frontier story, Taylor Sheridan's assured directorial debut has more than enough style, intrigue and heart to hold your attention throughout—featuring captivating enough characters to keep you invested in a socially reflective narrative, with universal human themes.

---
Similar films you may like (Home Video)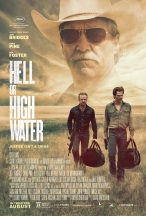 In an effort to save their family home and protect their loved ones; two small-town Texas brothers take revenge on the ruthless banks that wronged them by executing a series of dangerous heists, but their plans meet a dose of reality when they're challenged by a dogged old Texas Ranger in this crime drama from the writer of 'Sicario'.
Directed by David Mackenzie and starring Chris Pine, Ben Foster and Jeff Bridges among others.
Comments
comments
The comments are closed.
Submitted in: Cinema Releases
|