Review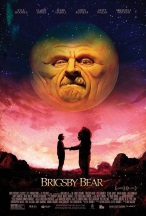 97min
Director:    Dave McCary
Cast:         Kyle Mooney, Mark Hamill, Ryan Simpkins…and more
Writers:     Kyle Mooney and Kevin Costello… and more
-Synopsis-
James's life is pretty simple, having grown up in isolation and cultivated an obsession with his beloved kid's TV show and its star 'Brigsby Bear'. But when the dark truth about his 'parents' is revealed, and he's released into the realm beyond his bubble, James sets out to find his place in the world and continue the adventures of his cherished bear—sharing the love he brings in this unexpectedly sweet and quirky comedy/drama with a sombre genesis and a distinct SNL imprint.
For over forty years American sketch comedy institution 'Saturday Night Live' has been the training ground for endless comedy writing and performing talent; from Eddie Murphy to Adam Sandler, Mike Myers to Will Ferrell, Tina Fey to more recent stars like Kristen Wiig and Kate McKinnon. Now after years of supporting roles in comedy film and TV, current SNL cast member Kyle Mooney teams up with fellow SNL alumni Dave McCary as director, and the boys from 'The Lonely Island' as producers, for his breakout role in this bizarre idiosyncratic ode to filmmaking . . . and a tale of new beginnings.
Mooney himself stars as 'James Pope', a 25-year-old lovingly raised in an isolated bunker by 'Ted' (Mark Hamill) and 'April' (Jane Adams), with educational and inspirational children's TV show 'Brigsby Bear Adventures'—a homemade piece for an audience of one—as his constant companion and sole link to the outside world. But when his entire existence is altered and James is released into the world, and into the arms of a once forgotten family, the fully grown cherub enlists the help of his new friend 'Spencer' (Jorge Lendeborg Jr.), empathetic detective 'Vogel' (Greg Kinnear) and sister 'Aubrey' (Ryan Simpkins) to bring Brigsby to the big screen—sharing his obsession with the world while bringing joy to many and learning some life-lessons along the way.
No adjective describes 'Brigbsy Bear' more accurately than quirky, which is perhaps unsurprising if you consider the people involved or if you've seen the trailer, but they don't accurately reflect just how sweet and life-affirming the film truly is—despite the core of the story revolving around something as bleak as child abduction. Picture a sort of 'Room' meets 'Elf' meets 'Raising Arizona' meets 'Be Kind Rewind', if you will.
Mooney and co-writer Kevin Costello's idiosyncratic and deliberately awkward comedy concoction manages to blend an unconventional coming-of-age tale (of the rare adult variety) with a fish-out-of-water story, smuggling in a 'SuperTed' meets 'The Gummi Bears' tribute to 1980s TV nostalgia, all in a package put together by filmmakers about filmmakers—but most of all this is their inimitable and endearing love-letter to storytelling . . . and those bold and determined enough to tell them.
In a welcome departure from most modern youth-centred comedies, the humour in 'Brigsby Bear' is never crass or irreverent, instead proving endearing and slightly off-key, but most importantly well-judged and balanced with a reasonable amount of poignancy in the drama—with most of the laughs come from James's introduction to a wide new world and all the hilariously awkward faux pas which come with it.
There's also plenty of deadpan humour, pop-culture references and some physical comedy thrown into the mix, and it's all made to stick by Mooney's impressive and understated turn as an innocent and naive but emotionally conflicted overgrown child—who becomes his fluffy hero and transforms it from an instrument of captivity into a bringer of joy.
To some 'Brigsby Bear' may be too sweet a proposition with no real edge, and many commentators have taken issue with it treating the issue of child abduction too lightly and not delving into the victim's psychological trauma—but the movie never pretends to be a cinematic therapy session, and we wonder if these critics would be so quick to judge 'The Producers' for making light of the Nazis, or indeed 'Raising Arizona' in terms of child abduction. After all, comedy has always been a legitimate way to deal with tragedy and trauma, and no one can doubt the heart from which this one comes.
Ultimately despite some pathos and a few genuinely touching moments, 'Brigsby Bear' is very much a light-hearted comedy with pure intentions, and a gloriously peculiar one at that—fully deserving of your attention and consideration . . . if only for the chance to see Luke Skywalker as you never imagined.
The Bottom Line…
A quirk comedy ode to filmmaking and storytelling, and a highly unconventional coming-of-age drama built on the bones of sobering subject matter—with 'Brigsby Bear', Kyle Mooney and friends manage to concoct a gloriously awkward and good-natured, nostalgia-filled indie gem which will bust guts and warm hearts in equal measure.

'Brigsby Bear' is out now in the US, and on the 8th of December in the UK.
Comments
comments
The comments are closed.
Submitted in: Cinema Releases
|