Review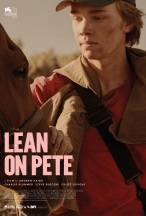 121min
Director:    Andrew Haigh
Cast:         Charlie Plummer, Steve Buscemi, Steve Buscemi…and more
Writers:     Andrew Haigh and Willy Vlautin
-Synopsis-
Teenager 'Charley Thompson' is used to living a nomadic life, moving from town-to-town in the Pacific Northwest with his grifter dad, with their latest move giving him the chance to work the local stables and form a bond with a spirited racehorse named 'Lean on Pete'. But when tragedy unexpectedly strikes, Charley embarks on an impromptu cross-country voyage with his trusty equine friend, in the hope of finding some real belonging—only to learn some grim life-lessons before his sobering journey is through.
You wouldn't think that a classic American road movie and coming-of-age drama, with a 'boy and his beast' angle, set in modern small town USA and across its rural frontiers would be a British film, but this adaptation of the Willy Vlautin novel is indeed a British affair—led by director Andrew Haigh (45 Years, Weekend) as he expertly weaves together this poignant but ultra-realist drama about a lad's physical and emotional journey, set in the vivid backdrop of working-class rural America and carried (in part) on the back of a steadfast mustang.
Young up-and-comer Charlie Plummer stars as his namesake Charlie, a self-sufficient 15-year-old loner used to being left to his own devices by his single dad 'Ray' (Travis Fimmel), as they follow unsteady work across the North-west of the country. When things seem to have settled and he takes a part-time job helping jaded stable owner 'Del' (Steve Buscemi), Charlie develops a connection with aging racehorse Pete—a bond which develops into an unlikely friendship when tragedy strikes and they embark on a journey across the American roads and plains, an adventure which will test the young man's determination and will to survive.
At first glance 'Lean on Pete' might look like a version of the recognisable child struggling with life story, who confides in an animal (or indeed a fictional creature) that makes the painful experience of growing up more bearable—a familiar paradigm in cinema—and to an extent it is just that . . . for the first half anyway. Then when the story takes a dramatic turn, it becomes a classic road movie or adventure voyage where the two travel together, but this particular coming-of-age drama has a dark and gritty edge and a loss of innocence angle which grounds it in a more sobering reality, taking the narrative down an unexpectedly dark and poignant path and giving the story more complexity—and the lead character many more layers of pain to connect to.
'Lean on Pete' is certainly a well shot film too, with Danish cinematographer Magnus Nordenhof Jønck using his experience with nature photography and taking full advantage of his Oregon surroundings to vividly capture the hazy majesty of the North-western plains, and deserts and dustbowls of the American heartland.
In terms of the drama, Haigh errs on the side of subtlety and exercises restraint but manages to inject plenty of early charm and a dose of dry humour, particularly through Fimmel as Charlie's loving and well-meaning but neglectful lothario dad, and through Buscemi as the cynical and straight-talking but sympathetic washed-up horse trainer Del, and his spirited jockey/confidant 'Bonnie' (Chloë Sevigny).
When the story starts to darken and the voyage begins, we're exposed to a journey which deliberately and rather prescriptively reflects the ills of society and struggles of everyday working-class Americans, before a huge unexpected twist which changes the entire context of the film and abruptly leaves the immediate past behind like an afterthought—turning the narrative decidedly grim and slightly lopsided in the third act, before wrapping up with a measure of hope.
Thankfully though, Haigh manages to maintain and steadily increase the level of genuine poignancy throughout, while grounding it all in an austere naturalism and never succumbing to cheap sentimentality, yet managing to be genuinely moving at the same time. And the success of the drama relies hugely on the nuanced characterisation of the lead character as someone the audience is connected to and invested in from the first frame of the film—thanks entirely to a hugely impressive award-worthy performance from young Charlie Plummer, managing to convey buckets of raw emotion and inner conflict with subtlety and grace . . . wrestling to hold it internally, in keeping with the character he plays.
Ultimately 'Lean on Pete' isn't the most emotionally devastating contemporary American drama you'll see, nor is it the most perceptive or reflective meditation on the plight of working class Americans and all that ails them—but thanks to a beautifully rendered lead character that is impossible not to feel for or make a connection with, this is an finely constructed and genuinely touching cinematic voyage and sobering coming-of-age story . . . which won't surprise us if it becomes a talking point come award season.
The Bottom Line…
Both a classic American voyage of a boy and his animal friend, and a drama about loss, grief and survival which manages to avoid cliché and sentimentality while being touching and displaying genuine pathos, 'Lean on Pete' leads you trotting down a familiar path before taking a decidedly dark left turn—captivating the audience with an utterly sympathetic lead character and the nuanced and accomplished performance which brings him to life.

'Lean on Pete' is out on the 16th of February 2018 in the UK.
Comments
comments
The comments are closed.
Submitted in: Cinema Releases
|