Review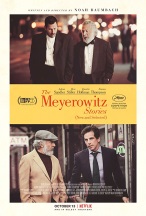 110min
Director:    Noah Baumbach
Cast:         Adam Sandler, Dustin Hoffman, Ben Stiller…and more
Writer:      Noah Baumbach
-Synopsis-
A quirky, dysfunctional and estranged New York family come together to rally around their difficult and imposing artist father at the twilight of his years, only for a series of unexpected events to dredge up resentment and ignite long-overdue uncomfortable conversations in this eccentric character dramedy from the writer/director of 'The Squid and the Whale' and 'Frances Ha'.
Noah Baumbach is certainly no stranger to exasperating and neurotic yet somehow endearing idiosyncratic urbanites who air their grievances to hilarious effect, as well as dysfunctional families and damaged individuals trying to make sense of the shit-show that is life—or indeed the musings of self-important New York intellectuals and their ilk. Now the Brooklyn auteur joins the cinematic 'wave of the future' (or the present to be more accurate) as he joins forces with Netflix and combines his specialist subjects with an impressive cast to give us his latest signature comedy/drama.
Dustin Hoffman stars as blunt and cantankerous, semi-retired New York sculptor and family patriarch 'Harold Meyerowitz', who while determined to reclaim past glories brings his family of enablers together; 'Danny' (Adam Sandler) the newly-divorced son with no direction, his peculiar sister 'Jean' (Elizabeth Marvel) and their estranged L.A.-based go-getter step-brother 'Matthew' (Ben Stiller), as well as aspiring avant-garde filmmaker granddaughter 'Eliza' (Grace Van Patten) and Harold's third wife 'Maureen' (Emma Thompson)—an eccentric alcoholic. But soon after the impromptu family reunion dredges up resentments and threatens to once again pull the family apart, and unexpected turn cathartically brings them back together—in farcical and hilarious style.
Any time you can get a cast with the comedic and dramatic chops of the likes of Hoffman, Thompson, Stiller and Sandler together, you know you've got a good chance of striking comedy gold with a sprinkle of tragedy and neurosis. And Baumbach relies heavily on his eclectic and accomplished actors to give flavour to this dry and slightly farcical dysfunctional family drama—centred on the unconditional love which gives us the strength to endure our fathers . . . sometimes against our better judgement.
'The Meyerowitz Stories' does have its dramatic moments, usually centred around the middle-aged children pondering over their unorthodox upbringings and the lingering insecurities caused by their father's egotism and neglect, but this is a far less poignant affair than some of Baumbach's previous work—featuring reflection that's mostly done through a prism of glib and occasionally absurdist but always frank and often awkward humour.
Everyone in the cast plays their part here, engaging in comical conversations packed with anxieties and neuroses, delivering deadpan lines and throwaway quips with panache, and Adam Sandler has rightly been recognised for a return to form with an endearing and nuanced performance as the true heart of the piece. But thanks to the larger (and angrier) than life persona of Meyerowitz the senior, this is truly the Dustin Hoffman show—with the master actor handling the role of narrative lynchpin with ease, making a fundamentally unlikable character somehow adorable and entirely sympathetic.
In its own quirky Baumbach way, the film certainly does address issues of parental neglect and psychological scarring, framing them through Harold's questionable and self-centred approach to parenting over the course of two marriages, proving less than encouraging and helping to mould a trio of very different children, each with issues of their own—and ultimately coming off as a father who didn't want his children to surpass him.
Yet despite the attempt at emotional layering there is very little genuine pathos or poignancy here, and 'The Meyerowitz Stories' is only moderately touching at best, not managing to achieve a particularly healthy balance for a declared comedy/drama. When the film is being ridiculous and blunt though, it does really work, managing to marry absurdity and whatever heartfelt sentiment it can muster with all the hilarious idiosyncrasies of its many endearing characters—layering enough pompous urbanite intellectualism to both satirise and eulogise, without crossing the line into tedium and obnoxiousness.
The result is a thoroughly entertaining and endlessly endearing if not quite utterly memorable dysfunctional family comedy, plus a hilariously frank story of brothers & sisters and a comically reflective tale of fathers & sons—another clear hit for the streaming giant and new major Hollywood player, as Netflix once again proves its commitment to quality storytelling and filmmaking . . . regardless of the genre.
The Bottom Line…
Hilarious and quirky to a fault while toying with poignancy but never really committing, Noah Baumbach's latest signature idiosyncratic New York dramedy is delightfully droll and packed with all manner of damaged but endearing characters. A dysfunctional family comedy which might not hit the heights of cult indie classic but will entertain throughout, with its meditation on the challenging fathers we suffer lovingly . . . for better or worse.

'The Meyerowitz Stories' is out on the 13th of October on Netflix.
Comments
comments
The comments are closed.
Submitted in: Cinema Releases
|