Review
130min
Genre:     Comic-book, Action, Adventure, Comedy
Director:  Taika Waititi
Cast:       Chris Hemsworth, Cate Blanchett, Mark Ruffalo…and more
Writers:   Eric Pearson, Craig Kyle, Christopher Yost… and more
-Synopsis-
When Asgard is ravaged by the powerful 'goddess of death', the mighty 'god of thunder' is relegated to slave gladiator on a decadent distant planet, only to form unlikely alliances with some familiar faces and some new ones to save his civilisation from annihilation, in the third instalment of the 'Thor' series and latest chapter in the 'Marvel Cinematic Universe' (MCU).
Nearly a decade into the industry-changing project that is the MCU, studio supremo Kevin Feige and the folks at Marvel Studios somehow continue to maintain a high level of entertainment value while weaving together complex and interconnected narratives and introducing new characters—yet the threat of it all becoming stale always looms, as does the spectre of an entitled and jaded audience. Enter self-styled Kiwi writer/director Taika Waititi to spice things up, building on the 'Guardians of the Galaxy' comedic superhero formula but injecting new levels of humility and idiosyncrasy, as the forgotten element of 'The Avengers' returns . . . to take a somewhat of a left turn.
Aussie man-mountain Chris Hemsworth picks up his mighty hammer for the fifth time as 'Thor Odinson', returned home to find a changed Asgard thanks to the exploits of his mischievous half-brother 'Loki' (Tom Hiddleston), only for everything to be thrown into turmoil by the arrival of the might goddess of death 'Hela' (Cate Blanchett)—with sinister intentions. Battered, bruised and stranded on the makeshift planet of Sakaar, lorded over by the 'Grandmaster' (Jeff Goldblum), the god of thunder is sold into slavery by mysteriously skilled scrapper 'Valkyrie' (Tessa Thompson) and pitted against a familiar formidable green opponent (Mark Ruffalo) in the gladiatorial arena—but the prospective king of Asgard must rekindle old alliances and forge new ones to escape and save his people from a fiery fate.
Much has been made about how much of a departure from previous Thor films and indeed the MCU this movie is, and the title alone signals that intent—'Ragnarök' in Norse mythology being where the destruction of the world and its gods heralds the rebirth of something new and fertile—in this case not only forming a central part of the plot but also serving as a metaphor for what Waititi & co. are trying to do with the franchise.
'Thor: Ragnarok' is chock-a-block with humour which even surpasses the efforts of 'Guardians of the Galaxy' and 'Ant-Man', and Marvel certainly deserves credit for giving the singular director the space to work his comedic magic. Waititi generously sprinkles a fantasy epic narrative with his brand of dry, self-effacing, humble yet faux-cocky New Zealander humour, humanising gods and heroes and giving us a look at a vulnerable and fallible god of thunder as we've not seem him before—all of which feeds into what is largely a buddy movie between Thor and The Hulk, hilariously characterised as bickering teenagers to a large extent.
The new additions to the MCU also leave their mark, with the great Cate Blanchett making for a majorly stylish and suitably menacing villain who subverts the history of Asgard, while Tessa Thompson proves to be a delightfully roguish and impactful addition to the Thor franchise. Meanwhile the grandmaster of cinematic quirkiness Jeff Goldblum is suitably cast as the Grandmaster of Sakaar, and the director himself proves a scene-stealer in a cameo-stretching appearance as a soft-centred being with a rough exterior—all while making sure that every character showcases their comedic side . . . often in unexpected circumstances which puncture the superhero pomposity.
Unsurprisingly the visuals on show are elaborate and flashy with a heavy reliance on CGI, culminating in the most emotive and fully-realised version of The Hulk to date, plus some distinctly vivid and colourful production designs from some familiar names—all unexpectedly captured by Javier Aguirresarobe (The Others, The Road), a cinematographer with distinct indie film roots.
Meanwhile the film's sound is arguably even more compelling and enchanting than its visuals, with composer Mark Mothersbaugh (The Royal Tenenbaums, The Lego Movie) crafting a score which combines epic classical motifs with pulsating synth-pop and electronica themes, which help to give the film a subtle 1980s video game aesthetic.
There's little doubt that 'Thor: Ragnarok' makes a valiant attempt at tearing up the Marvel filmmaking rulebook, and even feels like something of a reboot or a standalone film (to an extent), tentatively built on the foundations of the Thor series but not overly burdened by the MCU. Yet for all the talk of this being a major departure from what's come before, dig a little deeper under the delightful comedy and you'll find a very familiar cinematic skeleton from the Disney-owned comic-book studio.
No matter how much of a departure any film in this cinematic universe may seem, they'll always have to play according to a basic set of rules and fit into a bigger picture. 'Thor: Ragnarok' not only flows in familiar fashion and employs a common three-act structure, but it executes it in a prescriptive way, culminating in a lavish pre-requisite CGI-laden final battle, with escalating power which feels abstract and which amounts to sensory overkill—ultimately contributing to a narrative which in general feels a little flat.
Yet when the hand of its director is felt the film truly shines, thanks to the sterling work done on character development and the quite glorious injection of humour, which is thankfully present throughout and balances the film out nicely, making this easily the best Thor film to date and perhaps the funniest MCU picture thus far—although certainly not the most well-rounded or memorable.
The Bottom Line…
Although not quite as revolutionary or as much of a departure from the Marvel Cinematic Universe as advertised, 'Thor: Ragnarok' succeeds in combining the Marvel blueprint with the unique comedic sensibilities of Taika Waititi, giving us a majorly entertaining and side-splittingly funny superhero romp with more idiosyncrasy and charm than we're used to—and which works both as a standalone film or as part of the MCU continuum.

---
Similar films you may like (Home Video)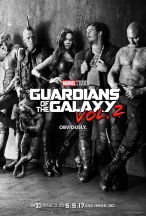 The Galaxy's move beloved misfits are back!, now finding themselves celebrities after saving billions from the whims of the evil 'Ronan', determined to keep the Galaxy safe from a growing threat while uncovering the mysterious origins of their self-declared fearless leader 'Peter Quill'.
Directed by James Gunn and starring Chris Pratt, Zoe Saldana and Kurt Russell among others.
Comments
comments
The comments are closed.
Submitted in: Cinema Releases
|