Review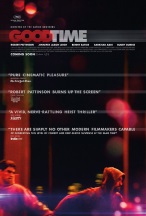 101min
Directors:   Benny Safdie and Josh Safdie
Cast:         Robert Pattinson, Benny Safdie, Buddy Duress…and more
Writers:     Ronald Bronstein and Josh Safdie
-Synopsis-
When an ill-conceived heist goes wrong and his mentally challenged bother is captured, a young New York street criminal plunges into a tense and unpredictable night of misadventure, caught in a determined race against time to spring his sibling from jail in this energetic pulp thriller from celebrated indie filmmakers the Safdie brothers.
Few indie filmmakers have garnered as much underground buzz over the last decade without truly being 'discovered' as Josh and Benny Safdie, capturing the eye of critics and selective audiences alike with their style of gritty and energetic New York dramas like 'The Pleasure of Being Robbed' and 'Heaven Knows What', and relying almost entirely on acting amateurs and newcomers. Now the two Queens natives join forces with a modern matinée idol—on his own interesting indie path—to bring us this intensely atmospheric crime/thriller about people on the margins of society . . . and the questionable decisions they make.
British star Robert Pattinson stars as New York hustler 'Connie Nikas', a street criminal who co-opts 'Nick Nikas' (Benny Safdie) into a harebrained robbery, landing his estranged brother with learning difficulties in jail after things go awry. What follows is a frenzied night in the 'Big Apple', escalating from getting bail money to a mad dash across the city as Connie leaves a wake of misfortune which covers the strangers he encounters—like fellow jailbird 'Ray' (Buddy Duress) and unsuspecting teenager 'Crystal' (Taliah Webster)—on his way to securing freedom for his brother . . . at any cost.
There's probably no better way to describe 'Good Time' than vibrant and energetic, as the Safdies waste little time in throwing us into the tense maelstrom, dedicating only an opening scene to backstory and relationship dynamics before plunging the audience into the thick of it—setting a pace which only occasionally relents and effectively doing any further character exposition on-the-go.
'Good Time' is a classic example of a film with a genuine immediacy and a gritty energy which now rarely makes its way from independent film to mainstream studio cinema, which is complimented by an authenticity brought be the Safdies shooting in their backyard and using plenty of inexperienced actors—all of which gives the film a quality very reminiscent of indie film from the early 90s, particularly European fare like 1998's 'Run Lola Run'.
If the visuals and the narrative here don't remind you of Tom Tykwer's German thriller (or indeed other European indies of the time), then the music certainly will. The superbly atmospheric, driving and pulsating electronic synth score from experimental composer Daniel Lopatin (aka Oneohtrix Point Never) is not only the driving force behind the story, but a rumbling presence boiling in the pit of the film and looking to break free, often through solos which go beyond atmosphere into their own distinct narrative voice—only to then slow down and wrap up with an introspective and poetic original song from Iggy Pop, which captures the emotional core of the film.
The performances on show are all accomplished and also contribute to the energy and earthy feel of the film, led by Pattinson as a convincing New York schemer and improviser on-the-fly, who's simultaneously selfish and selfless while single-minded in his goal regardless of the consequences, and is characterised by the directors as something of an anti-hero. Meanwhile his movie brother and co-star Benny Safdie is arguably even more impressive in his nuanced and utterly convincing portrayal of the Nikas brother with learning difficulties, dealing with the emotional struggles of growing up with his condition and the situation he finds himself in—but it's their co-star and relative newcomer Buddy Duress who steals the show as street hustler Ray, brining a comedic edge and the raw quality of the city to his role, without the baggage of an experienced or jaded actor.
'Good Time' is no doubt a gripping indie character drama and crime thriller—although not quite as visceral or relentless as advertised and featuring a periodically broken up momentum—but it certainly leaves an impression that character development was left to the side somewhat, only providing some occasional hints of the brothers' past and their relationship.
The result might make it difficult for audiences to fully get on board with the film's sympathetic characterisation of Connie, who as the title suggests relentlessly pushes forward with the 'noble' view that any legal consequences would be justified as 'good time' served, for the sake of his brother. But given that despite his good intentions he obviously can't see what's best for his troubled sibling, not to mention all the casualties he leaves in his wake without hesitation in pursuit of his goal, it's perfectly right to question the nobility and integrity of this supposed anti-hero.
Yet despite the questionable gritty urban morality of a film not without its other issues, 'Good Time' is undoubtedly an enthralling piece of independent film with an energy and authenticity that's becoming rare in mainstream cinema, while also flirting with social commentary and delivering a message of breaking free from societal and personal shackles. Thanks to impressive performances and the charisma of its star—not to mention the mesmerising tone set by a truly memorable soundtrack—this may well be the film which puts its directors on the Hollywood radar . . . although rather refreshingly, the Safdies seem in no rush to move up the movie industry ladder.
The Bottom Line…
The Safdie brothers raise their game and expand their audience with a raw and energetic New York crime thriller about people on the margins of society making questionable decisions, and a man with a very personal mission. 'Good Time' may not be faultless in narrative or an instant indie classic, but this pulsating authentic urban drama is engrossing from start to finish, driven by a masterful electronic score and raw solid performances—led by a former teen idol who continues his commendable commitment to eclectic independent cinema.

'Good Time' is out on the 17th of November in the UK, and out now in the US.
Comments
comments
The comments are closed.
Submitted in: Cinema Releases
|