Review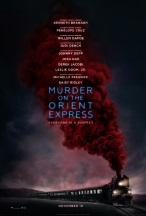 114min
Director:  Kenneth Branagh
Cast:       Kenneth Branagh, Michelle Pfeiffer, Johnny Depp…and more
Writers:   Michael Green and Agatha Christie
-Synopsis-
When someone mysteriously dies on the world renown luxury train travelling across Europe, fellow passenger and legendary detective 'Hercule Poirot' must unravel a mystery which will test his moral compass and where every other passenger is a suspect, in the latest adaptation of Agatha Christie's classic early 20th century murder-mystery novel.
When the great Sidney Lumet endeavoured to bring this classic mystery to the big screen for the first time in the 70s, introducing a whole new audience to arguably the most iconic train and second most depicted detective of all time, the American director relied on the talents of Albert Finney as the central sleuth and surrounded him with one of the starriest casts in film history. Now Sir Kenneth Branagh pulls double-duty as both star and director, shouldering the responsibility of dragging one of the most iconic literary titles of the 20th century into a new millennium—with the help of an ensemble all-star cast that's almost as impressive as the 1974 classic.
Branagh himself stars as the celebrated moustachioed super-sleuth Poirot, hitching a ride in his downtime aboard the luxurious express from Istanbul to Calais, but forced back into duty when the train is delayed en-route by snowfall and a passenger is found brutally murdered in his cabin. Now embroiled in a conspiracy which could involve any of his fellow passengers; including American Divorcee 'Miss Hubbard' (Michelle Pfeiffer), young British governess 'Miss Debenham' (Daisy Ridley), American businessman 'Hector MacQueen' (Josh Gad), Spanish missionary 'Miss Estravados' (Penélope Cruz), British doctor 'Dr. Arbuthnot' (Leslie Odom Jr.) and Russian royalty 'Princess Dragomiroff' (Judi Dench), among others—the Belgian master detective's quest to find the elusive murderer will test his unquestionable devotion to the truth.
With risk-averse Hollywood in the grip of a 'cinematic universe' and movie franchise obsession, using iconic characters and familiar stories to create lucrative properties, and with the success of Guy Ritchie's revamping of another classic European literary sleuth—20th Century Fox turns to Branagh to resurrect Christie for a new generation, but go about it in the curious manner of changing as little as possible.
This 'Murder on the Orient Express' certainly benefits from 21st century cinematic craftsmanship, boasting some top notch costumes and production designs to meticulously re-create the iconic luxury express and dress its illustrious passengers to the nines, not to mention some slick CGI augmentation to recreate early 20th century Jerusalem and Istanbul at the start of the film—plus of course a suitably moody and dramatic classical score from veteran British composer and regular Branagh collaborator Patrick Doyle (Thor, Cinderella).
Yet for all the modern window dressing, a marginal increase in dynamism and some slight changes in character traits which befit a modern audience looking for diversity, this version of the famous murder-mystery does very little in terms of creativity or novelty with the story and offers virtually nothing fresh or compelling—thanks to its commitment to authenticity.
The large ensemble cast of incredibly accomplished actors seems hamstrung by the material and they manage to deliver heightened performances which sit uncomfortably between period melodrama and an attempt at dark emotional pathos, the result is unconvincing and comes off as something dangerously close to soap opera at times. Only Johnny Depp brings something of his persona and adds genuine edge to his character, while Branagh in the central and all-important role is grandiose and impeccably coiffed—featuring a fuel-injected version of the infamous Poirot moustache—but ultimately feels like something of a caricature, despite the great actor's attempt at crafting a fastidious but devoted sleuth, in the midst of a mini existential crisis.
Perhaps the most the most disappointing element of the film is the narrative itself, and indeed the overly cautious treatment of the classic source material, meaning that anyone familiar with the novel or any of its adaptations is robbed of any chance of mystery whatsoever, rendering this version completely obsolete. Even for those coming to this story for the first time there's a distinct lack of genuine tension, atmosphere, intrigue and jeopardy—making this above all else a rather flat period drama, albeit a stylish and well-crafted one.
Ultimately all of the effort to stay close to the original material hinders the movie rather than serving it. Forty years after the original film, and a virtual lifetime when it comes cinematic evolution, a faithful adaptation doesn't quite cut it for a jaded audience who's seen everything, and at the risk of irking the purists perhaps 20th Century Fox would've been better off trying something daring and fresh—if not modernising the story then at least subverting it somewhat. All-in-all this stylish and reasonably entertaining but uninspired effort leaves us underwhelmed when it comes to the prospect of a Poirot franchise, and the inevitable sequel in the form of another adaptation of 'Death on the Nile' which this film sets up.
The Bottom Line…
Although a valiant stylish and well-crafted attempt at introducing classic mystery fare to a new audience, 'Murder on the Orient Express' is severely hampered by the safe and uninspired treatment of an all-too-familiar narrative, and performances which don't befit the calibre of the cast involved—resulting in a serviceable murder-mystery and marginally captivating period drama which proves rather underwhelming . . . and an inauspicious way to potentially launch another Hollywood franchise.

---
Similar films you may like (Home Video)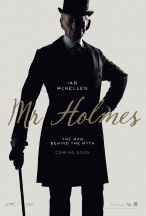 Sir Ian McKellen stars as an elderly Sherlock Holmes now retreated to the English countryside to contemplate his life but as his mind starts to fail him the hazy memories of his final unsolved case begin to haunt him, he will inevitably struggle to unlock the mystery that precipitated his retirement in this British period piece from the director of 'Kinsey' and 'Gods & Monsters'.
Directed by Bill Condon and starring Ian McKellen, Laura Linney and Milo Parker among others.
Comments
comments
The comments are closed.
Submitted in: Cinema Releases
|