Review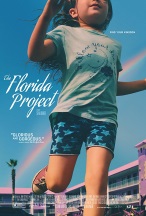 111min
Genre:       Drama
Director:    Sean Baker
Cast:         Brooklynn Prince, Bria Vinaite, Willem Dafoe…and more
Writers:     Sean Baker and Chris Bergoch
-Synopsis-
A gritty yet comical tale of brazen behaviour and childlike innocence, set the in the seedy live-in motels in the shadow of the Disney Empire and seen through the eyes of an adorably boisterous six-year-old girl, her unruly young mother and the lives that revolve around them—in another unique meditation on the American underclass from the writer/director of 'Tangerine'.
Since the turn of this century, Sean Baker has been perceptively and unflinchingly turning his lens towards troubled youth and the downtrodden in modern American society, cleverly capturing the urban grit of US sub-cultures and some of the country's marginalised communities with ultra-realist films like 'Take Out', 'Prince of Broadway' and 2015's acclaimed 'Tangerine'.
Now the full-service indie filmmaker turns to Americans in great strife, who flock to the 'Sunshine State' with the promise of a better life only to be hit by the grim reality of an economy struggling to recover and function for everyone, scratching a living out of seedy roadside motels—all seen through the delightful eyes of childish wonderment and infant innocence, where out of the mouths of babes comes a sobering yet charming reality.
As per Sean Baker tradition and to give the film another layer of authenticity, the cast is mostly made up of amateurs and newcomers led by the adorable Brooklynn Prince as 'Moonee'; a rambunctious six-year-old running wild with her friends around the seedy theme motels of Orlando, helping her brash young hustler single mom 'Halley' (Bria Vinaite) with her grifting schemes—while testy but good-hearted motel manager 'Bobby' (Willem Dafoe) struggles to keep them in line and his purple-coloured domain from crumbling.
Set and filmed in the gaudy roadside theme motels around Orlando and a stone's throw from the fantasy of Disney World—where low-income domestic tourists are increasingly replaced by struggling semi-permanent residents—'The Florida Project' proves to be an intoxicating blend of social realism and childlike wonder, simultaneously troubling and life-affirming and more genuine than most of what mainstream American cinema has to offer.
Much like Larry Clark, Harmony Korine and other indie filmmakers before him, Sean Baker vividly captures the underbelly of America and its youth culture, only in less grim fashion and with far more joie-de-vivre, heavily relying on his actors to inject energy and provide authenticity—lucky for him then that his star mother-daughter team provides buckets of it.
Seven-year-old Brooklynn Prince proves a revelation as the personification of charisma which holds the film together, delightfully mischievous and engaged in questionable activities as part of the only life she knows, but retaining her innocence while oblivious to some her mother's darker exploits. Meanwhile that teen mother-turned-canny hustler is impressively brought to life by newcomer Bria Vinaite, expertly capturing the brazen 'no-f**ks-given' attitude and misplaced self-confidence of 'ghetto-fabulous' American youth—so it's perhaps fitting that Baker discovered his new star through her Instagram exploits. The trio of leads is completed by the always excellent versatile veteran Willem Dafoe, as the unsolicited and unappreciated father-figure for the two troubled youngsters, with his own baggage to handle—essentially the decency at the beating heart of the film.
There's plenty of humour and outrageous behaviour on show here, often tackled in a light-hearted manner and seen through the eyes of adorable street-smart little tykes, but the film doesn't shy away from the dark and gritty reality of life on the margins, unflinchingly tackling drug use, violence, prostitution and transient living. Yet Baker's take on it all is perceptive and balanced, neither glorifying nor condemning irresponsible behaviour and questionable parenting, resisting the urge to judge and letting the audience decide how much of the characters' actions can be chalked down to their place in society and the hand that life has dealt them—but there's no doubt that the end goal here is to illuminate and promote a little empathy.
Ultimately 'The Florida Project' is a faithful product of its time, reflecting an overlooked part of American society and shining an uncomfortable light on an underclass, which could be confronting for those with an almost religious connection to the 'American Dream' ideal and the founding principles of the country. This vibrant little indie gem is a perfect example of what independent film has to offer over mainstream cinema, an enchanting and delightful yet troubling and tragic piece of social realist cinema—sprinkled with childhood magic.
The Bottom Line…
A vibrant contemporary snapshot of the human condition in the form of a funny and enchanting yet confronting social drama, with bags of personality and the magic touch of childhood wonder; 'The Florida Project' is the most memorable film to date from a filmmaker who continues to push the social envelope of independent cinema—thanks in no small part to a duo of star-making debut performances, and the class of a movie veteran.

'The Florida Project' is out on the 10th of November in the UK, and out now in selected cinemas in the US.
Comments
comments
The comments are closed.
Submitted in: Cinema Releases
|