Review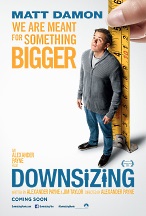 135min
Director:    Alexander Payne
Cast:         Matt Damon, Hong Chau, Christoph Waltz…and more
Writers:     Alexander Payne and Jim Taylor
-Synopsis-
In a world where scientists have found the solution to overpopulation and its effects on the planet, shrinking people down to five inches tall, a humble and honest man volunteers for the irreversible procedure and a shot at a new life—but he soon realises that even this micro-society can't escape the problems of humanity.
Having gloriously tackled universal human themes like loneliness, depression, familial strife and ageing in delightfully droll fashion with award-winning, quirky but poignant human dramas and humble cinematic voyages of self-discovery like 'About Schmidt', 'Sideways', 'The Descendants' and 'Nebraska'—singular writer/director Alexander Payne piggyback's off the sci-fi genre and expands ambition (and budget), tackling no less than the future of humanity and our planet to give us his funny but tempered and very human tale of empathy, understanding and convivence.
Matt Damon stars as physical therapist and humble American everyman 'Paul Safranek', who along with his wife 'Audrey' (Kristen Wiig) decides to leave his financial woes behind and live like a king in the miniaturised community of 'Leisureland', by shrinking himself through a revolutionary procedure designed to reduce the impact of humanity on the globe. But when things take an immediate wrong turn, Paul learns that rather than hiding the ills of society, his new micro-world simply magnifies them, as he forms an unlikely bond with dodgy Serbian wheeler-dealer ' Dusan Mirkovic ' (Christoph Waltz) and feisty refugee 'Ngoc Lan Tran' (Hong Chau)—embarking on a journey to find out if humanity can truly be saved by their pint-sized predicament . . . and learning about himself along the way.
At first glance this light but seemingly profound big studio genre piece may not seem like an Alexander Payne proposition, yet a slightly deeper look will reveal the quirky tone and flawed but likeable characters which will be familiar to his fans—but a deeper look might prove your initial instincts correct, as the lack of any edge or genuine pathos suggests that the writer/director's unique voice may have become a victim of the studio filtering process.
'Downsizing' no doubt begins as an ambitious picture with a fascinating central premise, but its promise is ultimately squandered and the potential profundity of the story relegated to an invisible background for what is essentially a funny and moderately idiosyncratic but unfortunately sentimental human story and tale of self-discovery—proving something of a physical journey but not much of a existential one, and ultimately leading nowhere but a rather underwhelming moral epiphany.
The film does however have its merits, particularly in the first act and when it comes to the light breezy tones and the humour, with Matt Damon mustering all his likeability to represent the average Joe and Christoph Waltz doing his best to inject some irreverence and mischief—meanwhile Hong Chau steals the show as the blunt and spirited downtrodden Vietnamese cleaner, proving to be both the moral heart of the piece and the focus of the social inequality theme which runs through the film . . . which is executed with some unfortunate banality.
This is also beautifully crafted picture, featuring some stylish and deliberately sterile art design and vivid cinematography captured by Payne's regular director of photography Phedon Papamichael, not to mention the delightful sounds capped by a largely whimsical score from composer Rolfe Kent, another one of the director's regular collaborators.
Ultimately though 'Downsizing' feels like a major missed opportunity which never fulfils the promise of its fascinating premise. A film which fails to take advantage of its illustrious indie director's ability to effectively blend light humour with a hint of edge and genuine poignancy, squandering his talents for the personal in favour of something bigger which never really sticks—and leaving us with a conclusion which is simultaneously stark and hopeful . . . but a tad too earnest.
The Bottom Line…
While it may be an entertaining quirky comedy and endearing human drama—in the guise of an environmentalist parable with a strong moral message—'Downsizing' ultimately falls flat and fails to meet the promise of its premise, unable to translate the talents of its unique writer/director onto a bigger and more ambitious canvas. Time will tell whether Alexander Payne reverts to his cinematic roots, or continues on a quest to bend big studio filmmaking to his will.

'Downsizing' is out now in the US and on the 24th of January in the UK.
Comments
comments
The comments are closed.
Submitted in: Cinema Releases
|