Review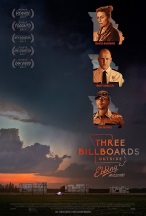 115min
Director:     Martin McDonagh
Cast:          Frances McDormand, Woody Harrelson, Sam Rockwell…more
Writer:       Martin McDonagh
-Synopsis-
An implacable and irrepressible small town mother takes on local law enforcement (and much of the community) when they fail to solve the case of her teenage daughter's brutal murder, in a darkly comedic and socially reflective modern day Southern tale from the writer director of 'In Bruges' and 'Seven Psychopaths'.
Having forged a parallel filmmaking career with his brother John Michael McDonagh (The Guard, Calvary), and establishing edgy and often dark but always hilarious and distinctly charming human dramas and crime tales as the family business, British writer/director Martin McDonagh turns his eye to the American south and ups the Hollywood stakes while garnering greater industry buzz—yet maintaining the signature style and unbound indie qualities which have made him one of those emerging cinematic forces that all actors want to work with.
Frances McDormand stars as blunt and formidable small-town single mother 'Mildred Hayes', still dealing with the relatively recent brutal and unsolved murder of her daughter and taking her rage and frustration out on honest police chief 'Willoughby' (Woody Harrelson) and his inept, bigoted and impulsive deputy 'Dixon' (Sam Rockwell)—challenging local law enforcement and the community with a series of confronting roadside billboards, while shaking their sleepy southern town out of its slumber with her determined quest for justice and closure.
Any fan of the McDonagh cinematic style or anyone familiar with their relatively short but impressive filmographies will probably expect sharp dialogue with little regard for political correctness here, delivered by idiosyncratic and well-defined characters in a story which expertly balances dark humour and legitimate pathos in true British and Irish cultural style—and 'Three Billboards Outside Ebbing, Missouri' certainly delivers in style and in a quintessentially American context. Yet whether by design or as a consequence of the time in which it's released, Martin McDonagh's latest is a more socially reflective affair than you might expect, not only though the virtue of riding the Hollywood wave of female empowerment—thanks to its gloriously irrepressible central character—but also by reflecting the ugly spectre of racism still present and now seemingly flourishing in America.
Having forged a varied and impressive award-winning career playing complex and considerable characters in films like 'Fargo' and 'Moonrise Kingdom', Frances McDormand brings her considerable talents to bear and cuts a formidable figure as an indignant mother determined to get justice, bringing to life a flawed but sympathetic heroine with what are usually seen as male characteristics in a grieving parent—in a performance which is sure to make waves come awards season.
She's meanwhile flanked by an eclectic supporting cast which includes the likes of Caleb Landry Jones, Peter Dinklage and John Hawkes, and is excellently led by McDormand's two co-stars and screen sparring partners the always engaging Woody Harrelson and the perpetually eccentric and captivating Sam Rockwell—who proves to be both the dark and the redemptive heart of the story, with a character who could've easily been odious but which he makes utterly human.
In fact it's McDonagh's strength as a theatre writer/director and adeptness at concocting complex and flawed but relatable characters which again proves to be his film's strength, refusing to draw one-note people with black & white morality, but rather getting you to occasionally question your devotion to the protagonist while sympathising with characters you might want to hate—and making modern audiences squirm with less than politically correct dialogue, while simultaneously roaring with laughter and feeling guilty about it.
Although 'Three Billboards Outside Ebbing, Missouri' may slightly lose momentum and direction in the third act and deliberately leaves the conclusion unresolved, which makes this McDonagh's least rounded or well-packaged story thus far, there's so much character and shades of grey morality to the narrative that it makes for a memorable, occasionally poignant and often uncomfortably hilarious tale of motherhood— wonderfully coloured by human flaws and delivered through cutting real world dialogue . . . and with a hint of classic western to boot.
McDonagh's latest indie triumph further solidifies his reputation as one of the more exciting emerging forces on stage and screen, and a new breed of writer/director that every actor wants to work with—but with mainstream Hollywood now bound to come a-knockin', time will tell if he opens the door and manages to retain his unique filmmaking voice.
The Bottom Line…
A delightfully blunt and colourful blend for darkly frank humour, poignancy and the occasional bit of graphic violence, 'Three Billboards Outside Ebbing, Missouri' paints a confronting but honest portrait of conflicting characters full of nuance and working-class charm, anchored by a formidable central figure brought to life by an equally considerable actress, and supported by an accomplished cast.
Martin McDonagh continues to his refine his distinct and bleak yet hopeful and hilarious cinematic voice, putting together a human drama which walks the line between political correctness and the real world of human instinct and honesty, all while delivering a message of empathy without resorting to cheap sentimentality . . . and with a little something to say about the toxicity of anger and resentment.

'Three Billboards Outside Ebbing, Missouri' is out now in the US and on the 12th of January in the UK
Comments
comments
The comments are closed.
Submitted in: Cinema Releases
|