Review
141min
Genre:       Action, Adventure, Comedy
Director:    Matthew Vaughn
Cast:         Taron Egerton, Mark Strong, Julianne Moore…and more
Writers:     Matthew Vaughn, Jane Goldman, Mark Millar… and more
-Synopsis-
After being virtually wiped out by a shadowy organisation, 'Eggsy' and the remnants of 'Kingsman' join forces with the talented and well-funded folks at their brash American counterpart 'Statesman', as they traverse the globe on the mission to stop a dangerous international drug cartel and their self-styled leader from enacting a devastating, ultra-capitalist plan for global domination.
Following his revival of the spy romp and creating a millennial 'Bond' for a new generation—but with all the familiar trappings—in his adaptation of the Mark Millar and Dave Gibbons comic-book 'Kingsman: The Secret Service', director Matthew Vaughn once again joins forces with screenwriter Jane Goldman to bring us the much anticipated and inevitable sequel to their critically praised 2014 box-office smash and franchise-starter.
Taron Egerton returns as agent 'Galahad' (aka Eggsy), last remaining Kinsgman agent who along with tech specialist 'Merlin' (Mark Strong) tracks down and teams up with their American cousins Statesman—a fellow private intelligence agency with a Kentucky Bourbon conglomerate front, led by 'Champ' (Jeff Bridges) and boasting agents 'Whiskey' (Pedro Pascal) and 'Tequila' (Channing Tatum), as well as their own tech whiz 'Ginger Ale' (Halle Berry). Together they must stop dangerous drug organisation 'The Golden Circle' and their enigmatic leader 'Poppy' (Julianne Moore)—a ruthless drug-dealer with a 1950s American housewife facade and global corporate aspirations, plenty of resources and some high-tech toys—as a couple of familiar figures from the recent past return to both haunt and help them.
Having delivered an entertaining mix of graphic and outrageous action with hilarious comedy, and combined the classic gentleman spy paradigm with an urban outsider element in the first film, Vaughn & co. have the daunting task of upping the stakes while dealing with the novelty of expectation . . . and of course entertaining audiences. Not surprising then that budgets have grown and casts become more starry, as 20th Century Fox try to secure their new franchise, which includes revenue streams from beyond the screen. But the only question of real interest is does this instalment live up to or even exceed the first?—and the answer is unquestionably no.
Make no mistake though, 'Kingsman: The Golden Circle' is still a funny and entertaining superspy romp which continues the legacy of the first reasonably well, upping the ludicrous factor and blending non-stop action with quirky characters, some established and some new—and all armed with new toys to play (and kill) with. There's plenty of elaborate and outrageous action to feast your eyes on, including a dazzling opening car chase through some iconic and familiar streets to Londoners, plus an abundance of intricate and dynamic fight scenes—although the overuse of CGI embellishment and constant speed changes proves a little tedious, and sucks some of the character out of them.
The Kingsman comedic tone also remains reasonably healthy with this sequel, featuring physical and awkward situational humour plus some clever quips and solid one-liners, and even some unexpected Glastonbury-based lewd comedy. There's also a collection of new and moderately beguiling archetypal characters from across the pond to breathe new life into the franchise, with trans-Atlantic sequel potential—although a comedy cameo from a certain 'rocket man' (not Kim Jong-un) soon outwears its welcome, becoming an ill-conceived major role.
Yet all the style and razzmatazz ultimately serves as dressing for what is essentially an over-seasoned and undercooked narrative. A clichéd, slightly dull and haphazardly thrown together story which feels like an episode from a 70s or 80s TV series, and boasts none of the novelty and very little of the cool factor from the first film.
The cast are all solid but unspectacular while Egerton anchors the film well, but Julianne Moore is criminally underused as a one-dimensional villain, with the narrative using her to weave a farcical storyline about the effect of drug use on society and the politics of the drug war, which falls completely flat—ultimately proving tone-deaf and ironic when you consider that the studio have themselves become booze peddlers with the release of their 'Statesman' brand bourbon.
Perhaps the most disappointing element of this sequel though is the huge amount of ill-conceived and poorly executed sentimentality, with  Vaughn and Goldman taking advantage of the investment the audience has made in the characters through the first film, to put forth far too many moments of frankly cringeworthy false emotion and poignancy, breaking up the film's momentum and occasionally threatening to derail it completely.
However for all its limitations, like all of Matthew Vaughn's  films this is still a stylish, well-crafted and fun cinematic package, which proves to be pop-culture conscious and acknowledges how silly it is. Ultimately though, unlike the 2014 original which offered more, 'Kingsman: The Golden Circle' is just another addition to the growing pile of stylish, lavish and entertaining, but not particularly memorable irreverent Hollywood action/adventure comedies.
The Bottom Line…
Although its many narrative shortcomings prevent it from conquering expectations or reaching the heights of the first film, 'Kingsman: The Golden Circle' is stylish and enjoyable enough to make for a solid sequel and second instalment of what looks to be a lucrative and long-running spy romp franchise.

---
Similar films you may like (Home Video)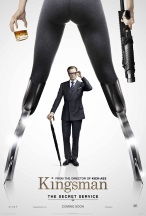 A talented but troubled inner-city kid is recruited by a high-level independent British Spy organization to stop a megalomaniacal tech-industry billionaire from bringing havoc to an unsuspecting world.
Directed by Matthew Vaughn and starring Taron Egerton, Colin Firth and Samuel L. Jackson among others.
Comments
comments
The comments are closed.
Submitted in: Cinema Releases
|