Review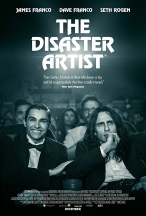 103min
Genre:       Fact-based, Comedy, Drama
Director:    James Franco
Cast:         James Franco, Dave Franco, Alison Brie…and more
Writers:     Scott Neustadter, Michael H. Weber and Greg Sestero
-Synopsis-
When an aspiring young actor meets an older mysterious wannabe thespian, they join forces and head to tinseltown to follow their dreams of stardom, but when Hollywood rejection hits they take matters into their own hands, embarking on a life-changing journey to make their own feature movie—resulting in a glorious artistic disaster of mythical proportions, in this chronicle of the story and the man behind a modern cult legend.
If you were to have a debate over what the worst film ever made was, it would probably be a longer discussion than what the best is, and highly dependent on your frame of reference, genre preferences and whether you apply a handicap according to the film's budget or the calibre of artist involved. Yet for many a cinephile, industry insider and cult movie fan, one title would probably crop up regularly—2003's 'The Room'. A ludicrously hammy and unintentionally hilarious contemporary indie character drama with laughable dialogue and even worse performances; conceived, funded, directed, written, produced by and starring the enigmatic Tommy Wiseau—an eccentric James Dean wannabe immigrant with Hollywood dreams, who along with his film has become an unlikely fan favourite in cult movie circles.
Now nearly fifteen years later and armed with the memoirs of Greg Sestero—Wiseau's right-hand-man and 'The Room' co-star—actor and filmmaker James Franco gathers together his Hollywood friends and family for the story behind the myth.  An awkward and deliberately hilarious but occasionally poignant outsider tale, cinematic portrait of an idiosyncratic enigma, and a story by dreamers and filmmakers about dreamers and filmmakers who are not afraid to fail . . . no matter how spectacularly they do so.
Prolific Hollywood star Franco channels his subject by both directing and starring as Wiseau himself; a bizarre, cryptic and stoic figure with emotional issues, a strange accent and mysteriously deep pockets, who embarks on a dream-chasing journey to Hollywood after forming an unlikely connection a young fellow actor Greg Sestero (Dave Franco). After struggling to get their break and spurred on by Wiseau's ambition and 'creativity', the unlikely acting duo graduate to fully-fledged filmmakers, setting-off on a bizarre and often unintentionally hilarious cinematic odyssey which will test their friendship and dedication—resulting in a film which is not easily forgotten and will now never be consigned to the deep well of unseen indie cinema . . . for better or worse.
In many ways 'The Disaster Artist' is a classic Hollywood insider, behind-the-scenes 'film within a film' movie, in the vein of 'Ed Wood' and 'Shadow of the Vampire', with the compelling distinction of being biographical in nature and about a film that's been assigned to the 'so bad, it's good' movie club—all while layering in a slightly clichéd underdog tale of friendship and championing the 'dreamers'. Yet just as 'The Room' was confounding in terms of its very nature—i.e. the debate over whether it was unintentionally terrible or choreographed farce—'The Disaster Artist' has us wondering whether this is just a continuation of a decade-long Hollywood in-joke, or a tribute to a man and a film which for whatever reason proves memorable and enduring . . . alas perhaps it's a bit of both.
'The Disaster' artist features a cast for familiar American comedy faces, including the director's own brother Dave Franco as co-star and filmmaking co-conspirator Sestero alongside his movie love-interest and real life wife Alison Brie, as well as regular collaborator Seth Rogen and Paul Scheer as the senior crew of the notorious film, plus the likes of Zac Efron and Josh Hutcherson in cameos as bit players in 'The Room'—but everyone on this show plays it relatively straight as supporters and enablers for the one and only star of the piece, Franco as Wiseau himself.
After establishing himself as one of the most prolific actors working today at the age of just thirty-nine, James Franco delivers arguably one of his best and undoubtedly his most memorable performance to date, expertly recreating Wiseau's distinct cadence and bizarre accent but steering clear of 'Borat' territory—all while nailing his perpetually medicated disposition and somehow capturing the benign and unintentionally hilarious essence of the man.
It's tough to know how much of this farcical biographical tale is real given that it's based on a book Wiseau has previously described as only half true, while dubbing 'The Disaster Artist' very accurate whilst promoting it, but the end result is a slightly confounding and thoroughly entertaining crowd-pleaser—despite some misplaced sentimentality and wafer-thin attempts at pathos, not to mention the slightly predictable narrative flow and feelgood conclusion.
'The Disaster Artist' is a big evolutionary step for Franco the filmmaker, who puts together a tightly packaged and charming classic underdog story which keeps 'The Room' legend alive and exposes it to a larger audience than Wiseau could have ever imagined, paying tribute to the dreamers who flock to Los Angeles with Hollywood dreams—and celebrating a film which manages to be so terrible on so many levels that it's somehow mesmerising and just plain fun . . . to a point. Most importantly though this is an ode to the man behind it all, an unlikely star who despite everything remains an enigma, leaving us still asking who the hell is Tommy Wiseau?—and in the 21st century there's something to be said for that.
The Bottom Line…
Packed with awkward charm, ludicrous lines and bizarre behaviour, 'The Disaster Artist' is (unlike The Room) a deliberately hilarious and occasionally touching tribute to an inexplicable cult indie hit and the enigmatic man behind it, as James Franco channels his subject and carefully crafts an ode to underdog dreamers and fearless filmmakers—while keeping the curious legend of a notorious film alive and well.

---
Similar films you may like (Home Video)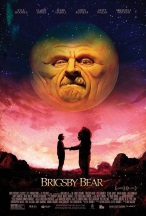 James's life is pretty simple, having grown up in isolation and cultivated an obsession with his beloved kid's TV show and its star 'Brigsby Bear'. But when the dark truth about his 'parents' is revealed, and he's released into the realm beyond his bubble, James sets out to find his place in the world and continue the adventures of his cherished bear—sharing the love he brings in this unexpectedly sweet and quirky comedy/drama with a sombre genesis and a distinct SNL imprint.
Directed by Dave McCary and starring Kyle Mooney, Mark Hamill and Ryan Simpkins among others.
Comments
comments
The comments are closed.
Submitted in: Cinema Releases
|